Sustainable Economic Development in Rural Areas in Nepal

The project's main objective, over a 30-month period, is to strengthen the partner banks (PBs) in their capacities to expand their business in rural/agricultural MSME lending in a sustainable and socially responsible manner as well as provide support to agricultural and rural MSMEs in improving their financial literacy and business management skills and enhance productivity through implementation of good agricultural practices.
Equipped with a team of international and local consultants, in April 2018 BFC commenced building relationship with the two SEDRA partner banks — Global IME Bank and OM Development Bank and project stakeholders on the ground.
BFC Stories: Bamboleo Business Game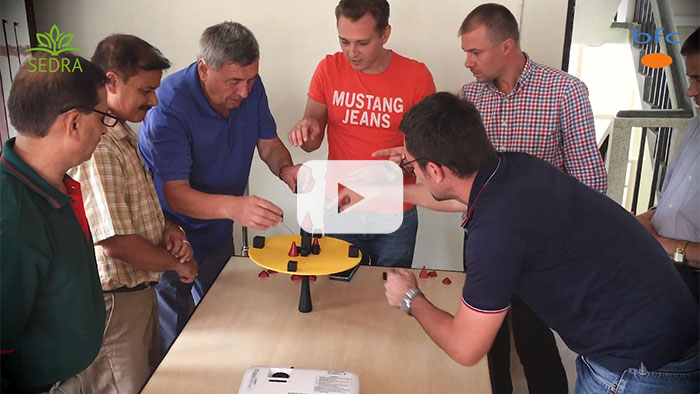 Watch our SEDRA team take part in Bamboleo, a business team building game that asks participants to construct a town with building blocks on an unstable platform without speaking. By using teamwork, team members are given the chance to make mistakes without consequences and it gives everyone a chance to contribute as no one leader is chosen, ideal for team building!
During the current COVID-19 crisis we are pleased to provide free Q&A sessions with our expert consultants online to respond to any relevant questions you may have.
Open the AskBFC page to listen for recorded responses or to send us your questions.
Global IME Bank

At Global IME Bank implementation activities started in July 2018 and centered around the following areas:
Credit process optimization, efficiency and credit risk management
Sales and services quality standards (SSQS), sales enhancement
Value chain financing (VCF) via a partnership program
Environmental and social risk management
Customer capacity building and communication mix
Technical assistance to Global IME Bank is expected to be completed by October 2020.
NMB Bank

In April 2018 SEDRA kicked-off at another partner Bank – OM Development Bank, later acquired by NMB Bank. Cooperation with NMB bank commenced in August 2019. It should be noted that NMB bank was awarded 'The Banker's Bank of the Year in Nepal' award in 2017 and 2018.
Sales enhancement and centralized sales management
Optimized credit analysis methodology
Automation of agricultural business analysis using a database of agri tech cards and an expert scorecard
Business requirements to CRM and a loan origination system (LOS)
Integration of the LOS with the Credit Information Bureau
Customer capacity building / non-financial service
Technical assistance to NMB Bank is expected to be completed by December 2020.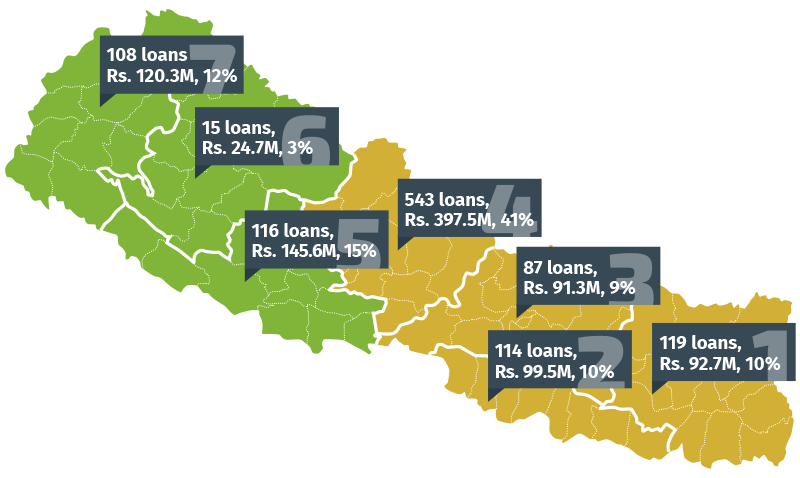 Regional Coverage
Under SEDRA, we also directly worked with entrepreneurs and businesses to improve their capacity to manage businesses and become eligible for bank finance. SEDRA has worked across all the provinces of Nepal, however, our funding activities have been focused in Province 5, 6 and 7.
In addition to this, the team travelled across provinces 1, 2, 3, 4 and 5 of Nepal, and interacted with numerous agri entrepreneurs to understand their limitations and areas where they would require capacity building interventions. The team has also visited numerous branches and outlets of the partner banks in the aforementioned provinces while fulfilling its mission as the program consultant.
Shreenagar Agro Farm

SEDRA partnered with a local agri firm Shreenagar Agro Farm (SAF), a pioneer in the area of poultry and feed production, who anchored SEDRA's capacity building intervention in the area of Financial Literacy, Business Management and Good Agriculture Practices for poultry farmers.
Training SAF staff, on delivering capacity building related training to farmers, facilitated the sustainability of our interventions as SAF took ownership of the toolkits developed and ensured continuity to the training with minimal assistance from SEDRA.
We also tested the launch of a value chain finance product under a partnership between Global IME Bank and SAF, through which the optimized business process, including an automated model with integrated agro tech cards to objectively evaluate the agriculture sector, was successfully tested by the bank, while SAF staff were trained on marketing the product to its customers.
Capacity Building
Not limited to poultry, we also developed information leaflets to help farmers understand and implement good agriculture practices, which will support them in improving their agricultural cycle management and improve productivity. Further, SEDRA also developed:
Toolkits for NMB Bank to conduct Financial Literacy and Business Management Training for commercial farmers and handicraft entrepreneurs
Toolkits to improve the capacity of farmers to understand and select relevant renewable energy technology while availing bank finance through NMB bank.
Three animated videos covering the basics of saving, credit and payment, with the objective of providing Global IME Bank with tools to reach out the larger audience in an effort to improve financial literacy.
A radio program with Global IME Bank, wherein the bank representatives covered various topics about banking services and how customers can leverage on banks for financial planning.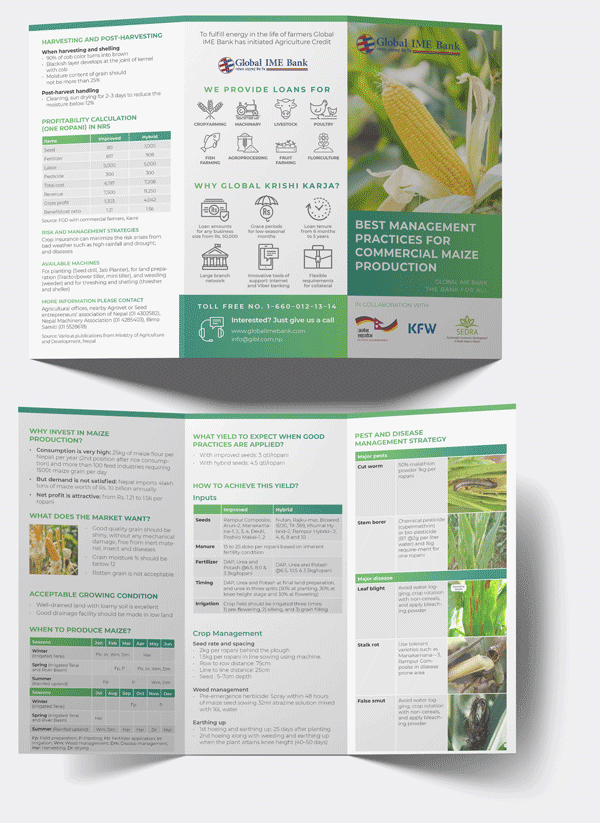 Cooperation with Nepal Rastra Bank (NRB) and Credit Information Bureau (CIB)
SEDRA has also been active in supporting NRB. As such, the following interventions were undertaken:
A concept note on Regulation on Credit Information Bureau of Nepal (CIB) was developed and shared with the aim to facilitate improvement of data sharing and quality of information supplied by the banks.
An exposure visit to Armenia was carried out in September 2019 to showcase the best practices of uncollateralized lending, revolving fund management, credit bureau regulations, and a liberal deregulation of the market in terms of access to foreign funding.
A concept paper on regulatory recommendations for the banking sector is expected to be delivered in 2020.
SEDRA and NRB teams have also been meeting on a regular (quarterly) basis to touch base regarding project accomplishments and discuss any follow-up points or areas of support required.
Exposure visit to Armenia for NRB
Study Tour in Georgia for partner banks
Cooperation with development partners
Since April 2018 SEDRA has been taking part in the regular (quarterly) meetings of the Financial Sector Development Partners Group (FSDPG), and has been interacting with development partners in Nepal by sharing data on interventions undertaken and staying updated about developments in the Nepalese financial sector. Further, SEDRA also joined hands with GIZ Nepal to identify potential opportunities for connecting the stakeholders in the Medicinal and Aromatic Plants (MAPs) sector with the project's partner banks.
Nepal Celebration Stories
Not limited to work, but yes celebrations to make employees motivated. BFC creates a platform for its employees to celebrate traditions, culture and the festivals. Taking an enjoyable break, celebrating different occasions at the office helps to build positive morale to the team which then acts as a motivating factor for team building.
Team Building is very important as it helps to form a unity setting positive vibes.
Team building and working closely together have been key factors to the SEDRA project's accomplishments so far. BFC believes that having employees celebrate traditions, culture and the festivals can build on the positive morale and motivation of the team.
So we took time to celebrate local festivals such as Dashain and Tihar , by decorating the office and enjoying the festive time together.